NOTE: This guide is only for Huawei E5577-321 Zain with firmware 21.200.05.00.375
Other versions are not supported!!!
Insert unsupported operator sim card into device - if it's locked to operator "A", then insert operator's "B" sim card and connect modem to PC. Check adapter bindings like shown here
---
Download Huawei HiSilicon firmware writer
Launch Huawei HiSilicon firmware writer software
If there is no DC-Unlocker/Rocker/Vygis or Infinity dongle connected to PC, then log in screen will appear. Use your account details to log in, otherwise you have a possibility to access software with free account that will allow you only to detect device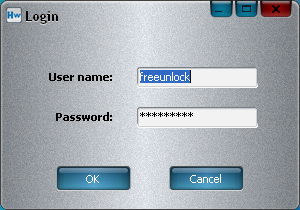 How to get Username/Password check here
---
Afterwards, Huawei HiSilicon Firmware writer software window will appear with detected E5577 info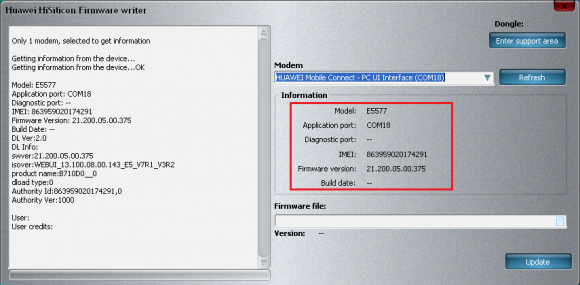 ---
Click paper icon above Update button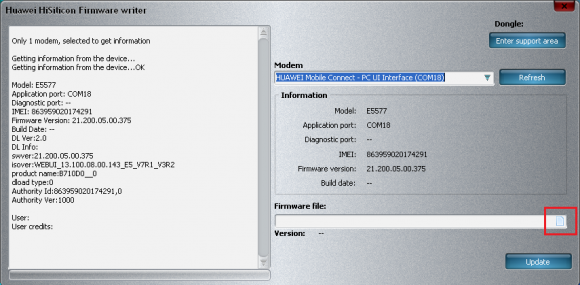 ---
Select 21.180.99.03.00 firmware file for decustomization. File can be downloaded from DC-unlocker support area which is accessed directly from flasher by pressing button "Enter support area"
---
Click Update button. At the end a message will appear that flashing has been completed successfully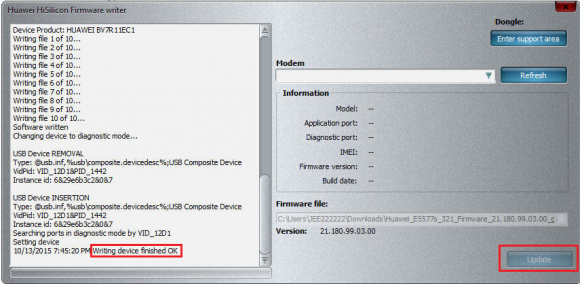 Now device ready for unlock
---
Launch DC-Unlocker client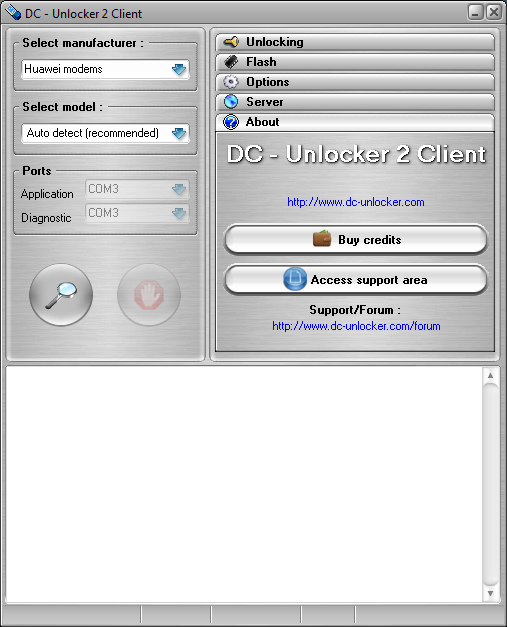 ---
Detect device by selecting Huawei modems from manufacturers drop down menu list, leave Select model as auto detect (recommended) then click magnifying glass button.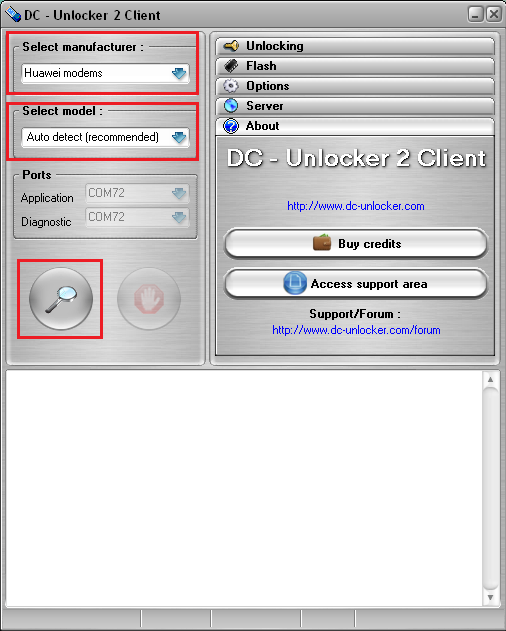 ---
Wait till DC-Unlocker fully detects modem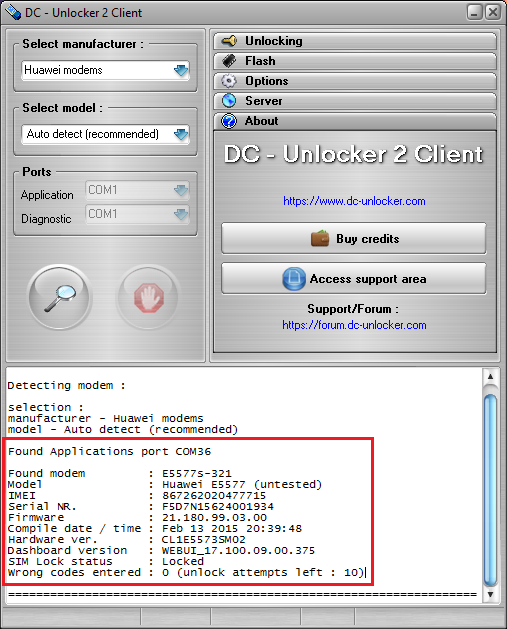 ---
Open Server tab, enter your username and password that you received after credits purchase. Click "Check login". (you can buy credits here www.dc-unlocker.com/buy).
If DC-Unlocker/Vygis/Rocker/Infinity dongle is connected, only click " Check login ".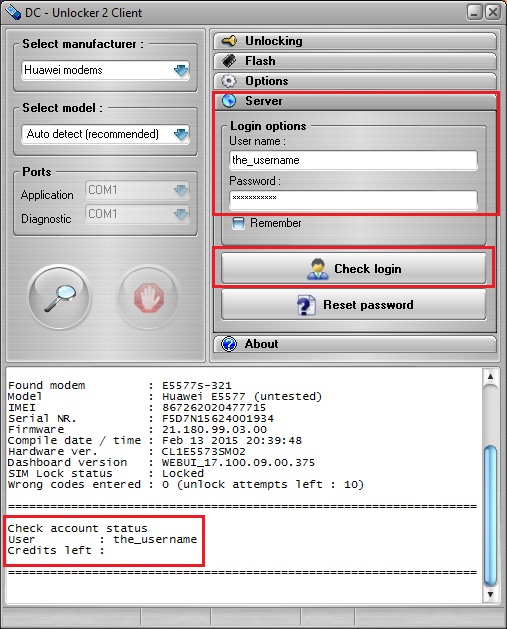 ---
Open Unlocking tab, click "Unlock". If there are more options below "Unlock / "Do job" button then leave it as it is selected by default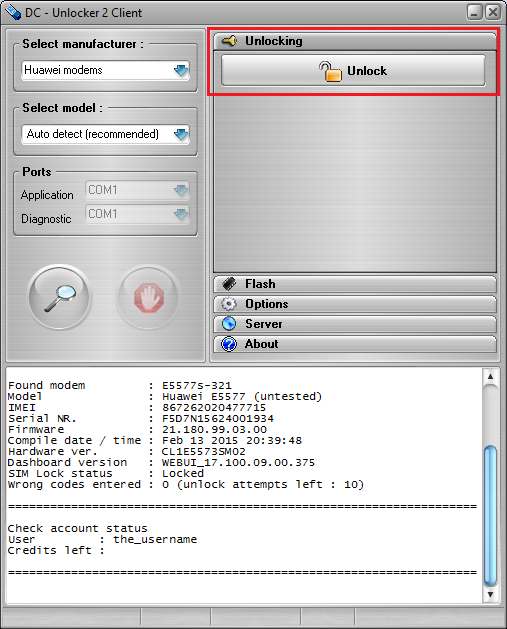 ---
Wait till you see a message that device was unlocked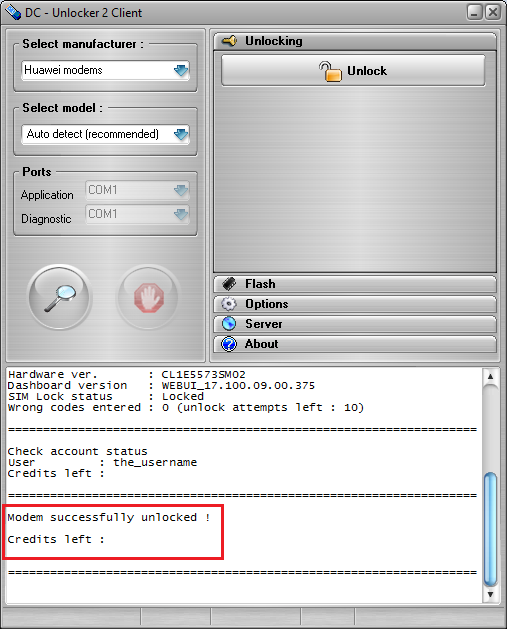 UNLOCK NOT FINISHED YET!
Now you need to flash device to 21.200.05.00.00 only then it will function as it used to. Repeat flashing process as before only this time with different firmware file (21.200.05.00.00)