Download DC Phoenix software here
---
Step 1
Launch the program
If there is no DC-Unlocker/Rocker/Vygis or Infinity dongle connected to PC, then log in screen will appear. Use your account details to log in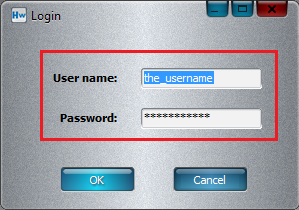 How to get Username/Password check here
---
Step 2
DC Phoenix software window will appear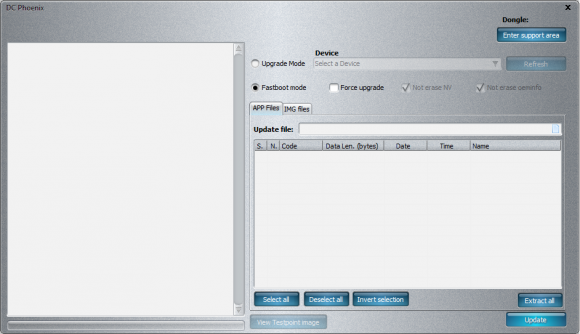 ---
Step 3
Select "Fastboot mode", open "IMG files" tab. Press paper icon next to "Update file" field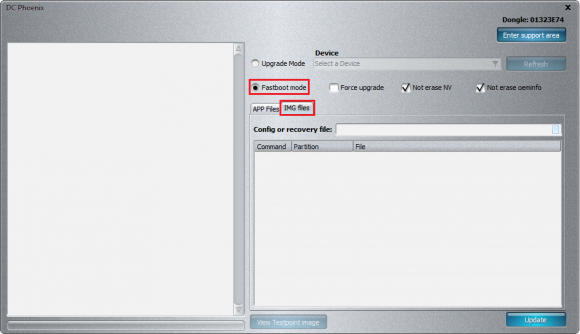 ---
Step 4
Make sure you have HiSuite installed (but closed) on your pc, it will be necessary for latest device drivers
Connect phone in fastboot mode. Power down mobile device. Hold Vol- and connect phone to usb cable, this will enter fastboot mode.
Note: remove SD card from mobile if there is one inside.
---
Step 5
Download factory image file from DC-unlocker support area. Enter support area from DC Phoenix by pressing "Enter support area" button

---
Step 6
Navigate to Firmwares / Huawei_phones folder. Choose factory firmware file that is most similar to your device model, if no such model available try to contact support for the file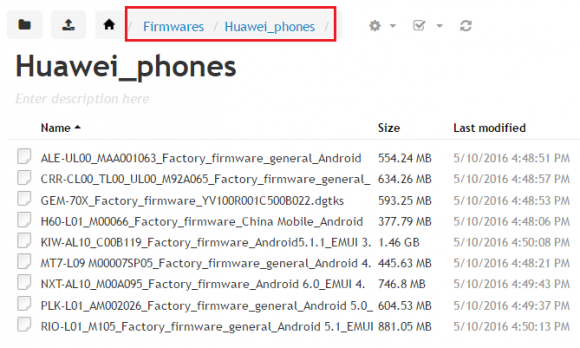 ---
Step 7
Select .dgtks file of your phone for flashing. Click "Open"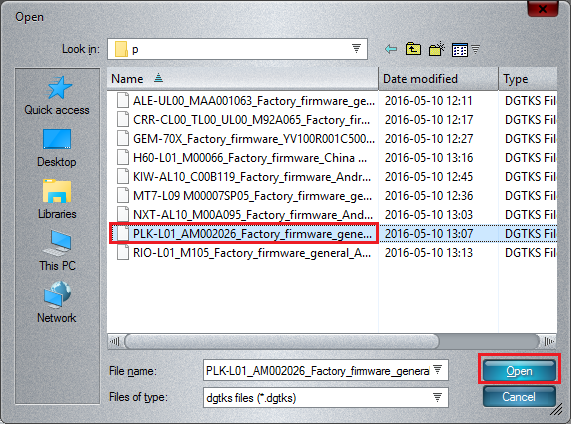 ---
Step 8
WARNING!
Removing check marks from "Not erase NV" and "Not erase oeminfo" options, will erase phone security data (simlock, IMEI and other numbers)
You will lose all numbers!, IMEI will be 0000000000000000
Review partitions that will be rewrited and click "Update" to begin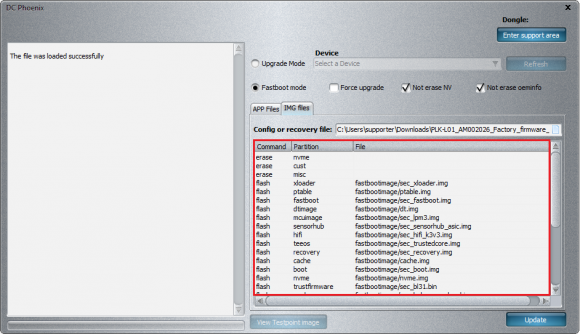 ---
Step 9
Monitor the process. Wait for flashing to finish, when it's complete you will see message on program's memo window
Disconnect phone from PC and restart to end the process